Jung-Sook Camilla Lee is no stranger to change and adaptation. Born in Seoul and raised in both Europe and the United States, Lee struggled to actualize her dream of being an artist while working to appease her parents' wishes to pursue a more traditional career path. This path led her to pursue liberal arts studies, then an MBA degree, before Lee ultimately settled into investment banking, where she describes herself to be the first Korean woman to work on Wall Street.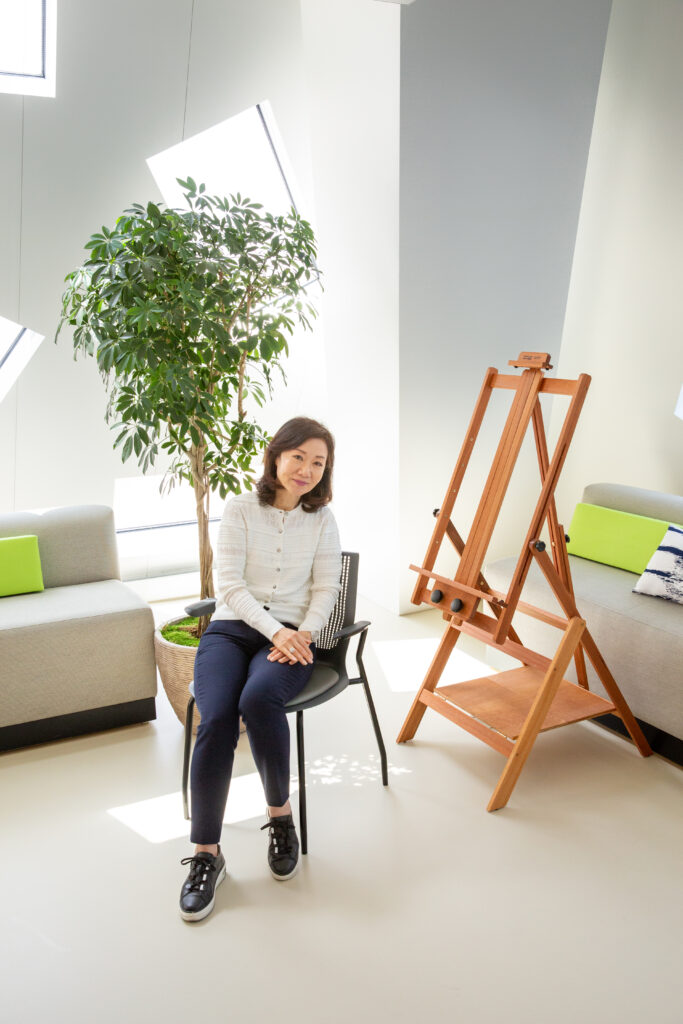 But after a 13-year career filled with great success, Lee felt burnt out, and ultimately decided to leave Wall Street and the financial industry. For Lee, the only thing scarier than leaving her successful career was starting the next chapter of her life.
As Lee worked to transition into her second act, she made use of her financial experience, teaching at a graduate school, writing a book about her life on Wall Street (which became a bestseller in Asia), and serving as an executive coach for global companies. Despite being busy with these new opportunities, she realized that something was still missing: her love of art.
At 55, Lee took her first timid steps into the world of art. With no initial formal fine art education, Lee relied on the encouragement of art world professionals, classes at the local arts college, and her family to keep propelling her forward as she developed her creative expressions. Now, eight years into her career as a contemporary abstract artist, Lee proudly reports that she has won multiple juried competitions for her work and has debuted her work in a solo show in New York.
Lee's inspiring story is just one path to what many might call an encore career. When asked "why art?" Lee described:
"Art has relevance because it shows what life is like during the artist's lifetime. My desire is to inspire and nourish the human spirit with hope by incorporating my life experiences through visual expression in painting." 
Using her art as a vessel, Lee wants to share the lessons learned from her life experiences as a representation of her benevolent nature and a reflection of her faith. Through numerous trials and tribulations, Lee has gained insight into how to overcome hesitation to pursue her passion. Now she wants to tell her story and inspire others to do the same.
You can see some of Jung-Sook Camilla Lee's artwork at GenSpace. Stay tuned for more stories like Lee's in our new blog series, titled GenSpace Spotlight.