Titled Shadow and Light, this 90-minute workshop was led by artists Laura Lewis and Lisa Davis of the Getty Center, and explored the importance of light and shadow in art and concluded in a workshop of watercolor paintings and still-life drawings.
"Our program today will focus on light – a foundational instrument used by artists to capture a mood, convey emotions, and create the magic of turning a flat object on the paper into a three-dimensional form. During our time together we will discuss how artists choose and use colors, experiment with techniques to explore light and shadow, and finally spend about an hour on focused, individual art-making time using the objects on the table and materials provided to practice these concepts. As we approach the new year, we thought it was timely to consider the symbolism of light as well: healing, positivity, renewal, and hope."

Laura Lewis and Lisa Davis
A group of Spanish- and English-speaking older adults from the community gathered to learn several artistic concepts, all while exploring thoughts of healing, positivity, renewal, and hope for this new year. The workshop first consisted of a five-minute light meditation exercise to align the body, mind, and soul in order to give space to the creative process. The group was then led through a crash course on color and the use of gradients, followed by hands-on creation time. Using the techniques learned and with the guidance of the instructors, participants conveyed their moods and expressed emotions by using shadows and light.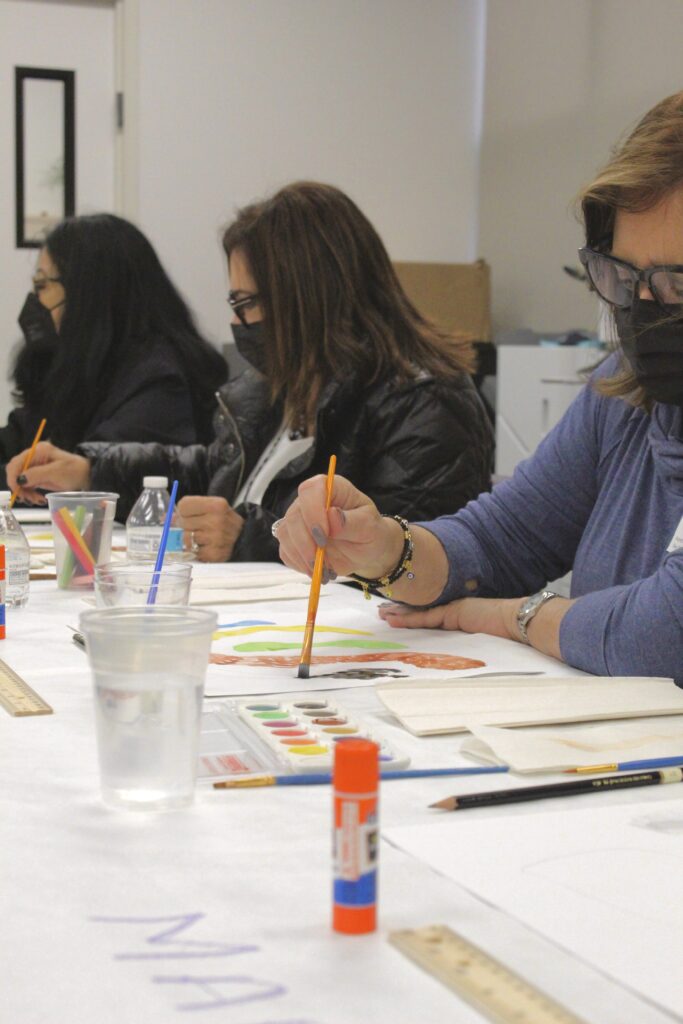 Wallis Annenberg GenSpace will be opening its doors later this year and will feature programming with topics including horticulture therapy, tech support, art classes, and fitness, all while fostering social connections in the community. Check our Classes + Events page for updates on the next events hosted by GenSpace.