Wallis Annenberg GenSpace is excited to announce its latest online offering, GenSpace Anywhere. As the center prepares to open to in-person programs soon, GenSpace Anywhere is an opportunity to get an early look at what a typical week of programs at GenSpace will look like. From Chair Yoga to Horticulture Fundamentals, this curated week of programs will give you a good taste of the kind of content you can access at GenSpace, from anywhere in the world! The sample week of programs reflect a theme of "Balance" and explore the idea as it relates to our six focus areas—Health, Fitness, and Wellness; Arts, Crafts, and Culture; Financial Security and Safety; Social Connection and Storytelling; Technology and Devices, and Horticultural Therapy.

GenSpace Anywhere ensures that no matter where you are, you can access informative and entertaining information that fosters health, wellness, learning, and connection.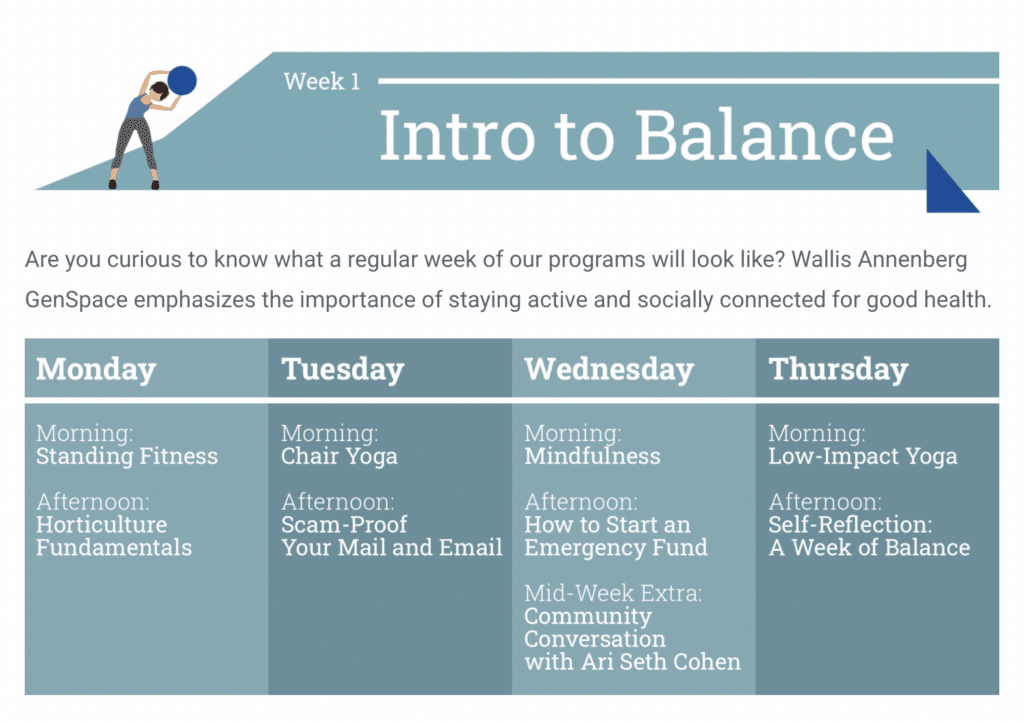 Take a look at the sample week here. Whether you try the entire week, or choose your favorites from the curated list, we would appreciate your feedback in the Thursday Self-Reflection activity. Feedback questions will include: Did these classes fit your expectations? Is the theme of "Balance" important to you? Responses can be anonymous, but the information provided is vital for helping GenSpace create programming that meets your expectations.

Click here to get started on your GenSpace Anywhere journey! If you have any questions or comments, please feel free to contact us at 424-407-4023 or [email protected].