Set against the backdrop of the Wilshire Towers' beautiful garden landscaping, residents of the Koreatown older adult community got their hands dirty while learning the basics of small plant care.  
Wilshire Towers is a residence and community for people 62 and older. Consisting of 283 housing units supported by Section 8 and Section 42 government assistance, the building recently made changes to improve residents' well-being, making upgrades to the on-site gym, library, and community room. With the help of Wallis Annenberg GenSpace, The Sill stopped by Wilshire Towers to provide residents with an opportunity to interact and learn about home-gardening.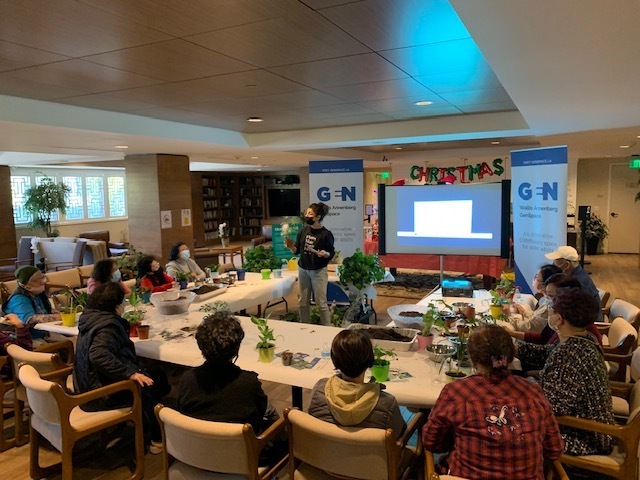 The Sill provides plant delivery and care services as well as biophilic design recommendations, which is a design style that prioritizes connection with nature in urban environments like apartments, schools, and offices. Expert horticulturalists from The Sill showed residents how to get the right light and environment for your plants, how to choose the right soil, and how to understand watering and pruning for optimal growth. During the session, Wilshire Tower residents were able to practice with their own pots and plants, provided courtesy of GenSpace.
This collaboration is an example of the kinds of classes and hands-on learning that will be offered at GenSpace – a community space for older adults to connect, learn, and thrive. GenSpace's horticultural therapy room, designed by Knibb Design,  will be a destination for people eager to work on their green thumb or just enjoy the activity and conversation that comes from gardening. All skill levels are welcome and encouraged! 
The class at Wilshire Towers is the second pop-up event offered by GenSpace. The first was Shadow & Light, conducted in partnership with the Karsh Family Social Service Center. Located in LA's Koreatown, Wallis Annenberg GenSpace strives to work with our neighbors to make lasting connections and introduce residents to our community.
For more information about horticulture classes or other activities offered at GenSpace, visit GenSpace.LA.