David Eric Japka, 66, recently started teaching an 8-week course at Wallis Annenberg GenSpace titled "Smartphones 101", but his eagerness to get involved in our space for older adults started much earlier.
As an older adult who is active in the community, David was thrilled when GenSpace opened in LA's Koreatown. He was excited about the idea of a unique and updated community space for older adults.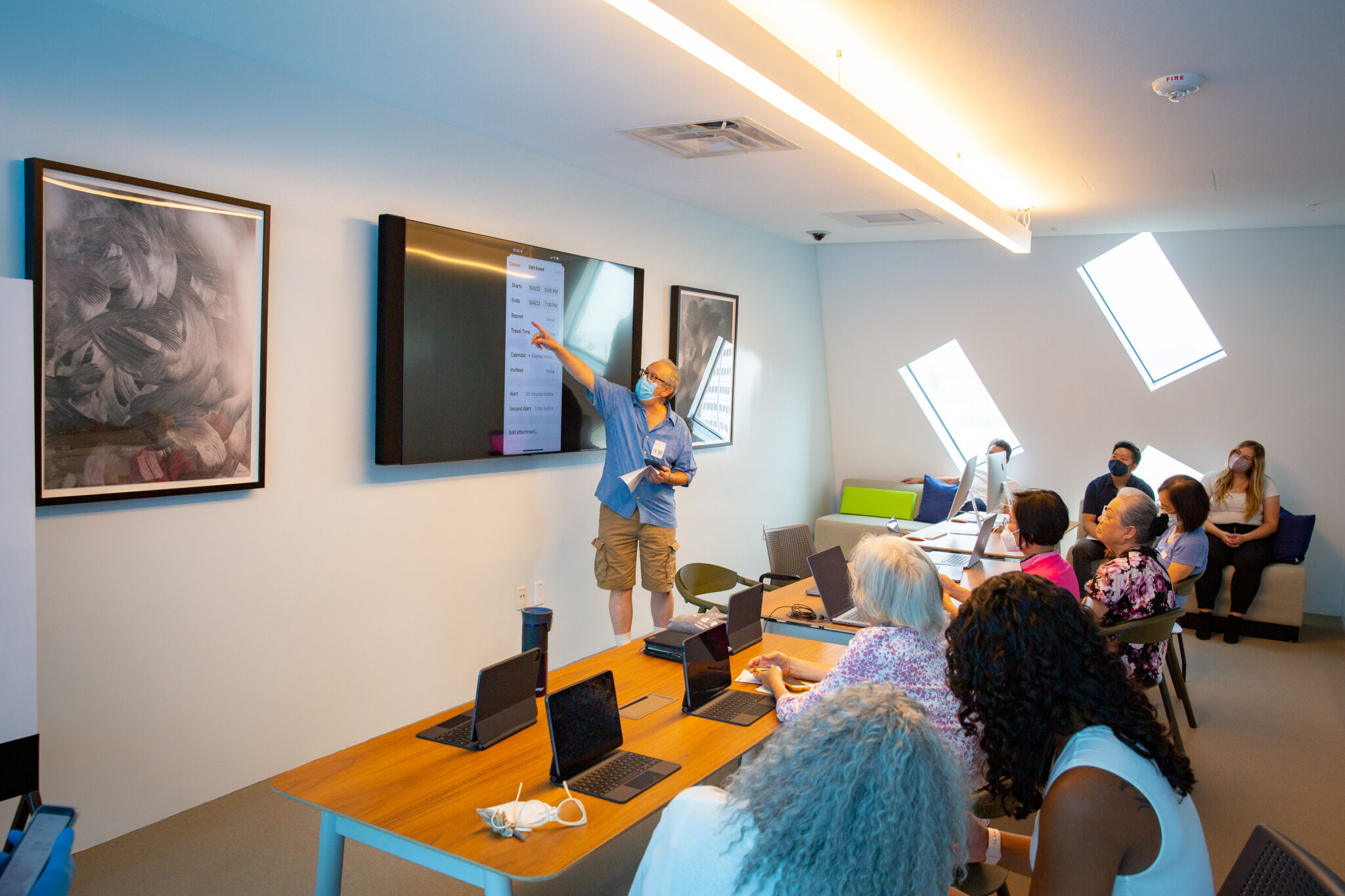 "My wife and I know of Wallis Anneberg because of all the work she has done in the LA community… so when we heard of a new space for older adults was on its way we quickly said: 'where can we sign up?'"
Nearly a year later, David is not only an active GenSpace member, but is now teaching his own class.
---
What got you involved in GenSpace?
"My wife and I attended a walking tour of GenSpace and while there we had the idea that maybe I should teach a class. So I started asking around if there was any need and Florencia Glas suggested maybe doing a tech related class."
"I have 40 years experience in the film industry. I know all there is to know about new products and technology that comes out. But I also recognize that this knowledge doesn't come easy to those who aren't actively using it no matter the age. So I thought about how I could make a class that would be practical for older adults."
David developed an 8-week syllabus teaching the basic use and applications of a smartphone. He teaches everything from scheduling and organizing in your calendar to using your email, text and even getting into advanced features like copy and paste and the different search engines. Next David plans to teach how to use YouTube and Instagram.
Why did you feel this calling?
"Recently I've had to pause my career in filmmaking because of an injury. This has been a major crossroads in my life as I love to work and be active. The injury has stiffened both of those."
"I tell people that teaching others like me is a blessing and a kind of selfish desire, because especially now, I need this more than the members. I've been looking for distraction and I think I found more than that. I found fulfillment." 
---
GenSpace is proud to have a committed member like David offering his expertise to other GenSpace members. Come enjoy David's class – Smartphones 101 – taught in the GenSpace Tech Bar on Thursdays from 10:30 – 12pm. You can also find David at GenSpace on  Wednesdays from 11:30am-12:30pm where members can stop by to get one-on-one tech help. Don't forget to sign up before the class session fills up!